Meet the Team
Dr. Joseph Kerwin – Gorham Chiropractor for Over 25 Years
Dr. Kerwin attained his undergraduate degree from Colby College in Waterville, ME. He attended the University of Western States in Portland, OR, where he received his Doctor of Chiropractic Degree, graduating summa cum laude in 1988.
In 1998, Dr. Kerwin attained his advanced proficiency certification in Activator Methods® Chiropractic Technique, which he continues to specialize in. In 2009, he attained his advanced clinical training certification in Nutrition Response Testing.
Professional Associations include:
Member of the Maine Chiropractic Association since 1989
Awarded Robert P. Lynch, Sr. Leadership Award in 1992
Treasurer of the Maine Chiropractic Association from 1992-2000
President of the Maine Chiropractic Association from 2000-2002
Member of the Maine Board of Chiropractic Licensure from 2003-2006 since 2003
National Board of Chiropractic Examiners Test Committee Member and Examiner 2010 & 2011
Building a Stronger Community
Dr. Kerwin and his wife Deb have three grown daughters, Kristi, Leigha and Kelsie. Dr. Kerwin enjoys bicycling with his cycling group while staying active in the community.
As a founding member of the Gorham Business and Civic Exchange, Dr. Kerwin was also Business Person of the Year in 1998. He was the fundraising chair for the Gorham Community Playground and the fundraising chairman for the Baxter Memorial Library Expansion Project. Dr. Kerwin sponsors a Gorham recreation, farm league, baseball team. He is a member of the Board of Directors of the Casco Federal Credit Union since 2013.
---
---
Deborah A. Kerwin – Office Manager & Chiropractic Assistant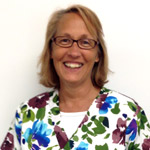 Deb is the office manager at Kerwin Chiropractic & Nutrition. She has worked with Dr. Kerwin for the last 26 years and is the mainstay of the office. She is a State of Maine certified Chiropractic Assistant and coordinates all activities of the office. She is loved by her patients and always has a positive and caring approach. She is also the mom of three grown daughters. Along with her many duties over the years she has 25 plus years of classical ballet training that is always reflective in her poise and grace.
---
---
The team at Kerwin Chiropractic & Nutrition stands ready to help you on your journey to better health. Call today to get started on a better life! (207) 839-8181